If you call it a farm again, I'm going to kick you off the land," says Wade Lee, a cofounder of Hāloa 'Āina, a forestry organization working to replant Hawai'i's sandalwood trees—and he's only partly joking. "It's a reforestation project," he continues with a smile. "I've been fighting the terms farm and ranch for years."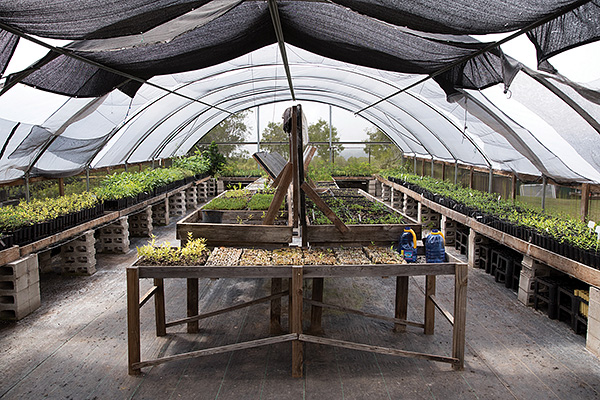 Seeing firsthand Lee's roughly 500,000 sandalwood trees on the leeward side of the island of Hawai'i makes it easy to understand his conviction. Farms and ranches are in business to harvest. Plantations genetically select specimens with ideal traits. Lee, his three sons and his wife, Lillian, with the rest of the Hāloa 'Āina team of 12 (many of whom are scientists), do neither. Their mission is to expand and conserve a native Hawaiian species that is interwoven into the archipelago's, and the world's, culture. Gandhi was cremated with sandalwood. Hindus use sandalwood paste to create the tilaka on their foreheads, and Buddhists count prayers on sandalwood-bead bracelets. Ayurvedic doctors prescribe the tree's oil for skin conditions. (Lillian, a wound specialist, attests to its antibacterial qualities, and Hāloa 'Āina has done studies through BioScreen in California and Zurko in Spain on the efficacy of sandalwood's antimicrobial effects.) The Kama Sutra lauds it as an aphrodisiac.
At the Four Seasons Resort Hualālai, not far from the Lees' operation, spa-goers partake of skin-nourishing treatments suffused with the family's sandalwood oil (see "Wellness That Means Well," page 27). "Before, if you wanted oil, you had to kill the tree," says Cecilia Hercik, who is both the spa director at the Four Seasons Resort Hualālai and president of the Hawai'i Spa Association. "But not at [Hāloa 'Āina]. The oil we get from them is so pure. It's a win-win."
Hāloa 'Āina extracts its oil from naturally deceased trees—a sustainable practice that recalls the sustainably minded methods used historically in Hawai'i, where one-third of the genus's 18 species are found exclusively. Locals once referred to sandalwood as lā 'au 'ala (fragrant plant) and harvested it mindfully, chanting in the forest to ask ancestral permission before cutting any trees down. Shavings were used for tattoos, to treat fungus and lice, and to preserve documents, such as Lee's royal family tree. (His great-great-grandmother was queen for a day.) That changed in the 1790s, when the American sea captain John Kendrick landed in Hawai'i and discovered the island's trees. Not long thereafter, trade with China exploded.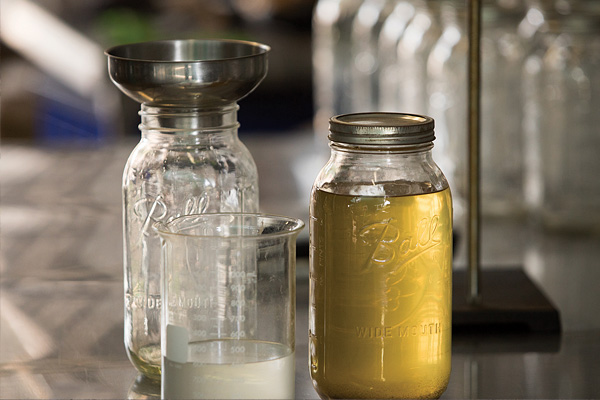 The trade lasted only 30 years, but in that time, sandalwood became Hawai'i's first major export and first tax. Paying it was Hawai'i's first written law. Even sandalwood's name changed: To this day, it is known as 'iliahi (loose translation: fire blisters, a reference to the wounds locals sustained from carrying the wood). Money flowed into the islands, and royals bought silks and other luxuries on sandalwood credit. By 1840, Hawai'i's sandalwood supply was devastated, forcing the kingdom to auction land to pay the debt. In 1853, this included Lee's ancestral property.
More than 150 years later, in 2009, through an incredible stroke of luck—or perhaps ancestral intervention—Lee bought back his family's land and turned it into Hāloa 'Āina. "The lineage of the land has come full circle," he says. "We took out a second and third mortgage. We did everything we could to buy this land back."
Thanks to Hāloa 'Āina's ongoing planting, 2,888 acres of native dryland forests that include Santalum paniculatum—a rare Hawaiian sandalwood that grows primarily on the island of Hawai'i's leeward side—once again cover this land. But sandalwood is hemiparasitic, meaning it kills other trees to grow. To restore sandalwood, a whole tropical dry forest must be regrown—a 100-year undertaking. Lee, who is a biologist and a former professor with years of experience with forestry preservation and the U.S. Fish and Wildlife Service, is just the person for the task (and his sons will continue the work), but the logistics are challenging.
Also labor-intensive is Hāloa 'Āina's process of extracting the highly concentrated oil: It takes about 100 hours (20 to 27 hours in the still and 72 hours in a warm-water bath) and produces 1.5 percent of the wood's volume in oil. Though it's neither the fastest approach nor the most lucrative, it works, and it is in line with traditional Hawaiian values. To keep waste to a minimum, Lillian uses the sandalwood dust left from extraction to make skin-healing salves and hydrosol sprays by hand. Incense and wipes are also produced, and proceeds from these products fund forest regrowth.
"We only move as fast and produce as much as the land gives us, and it's not dictated by how much oil we need," says Lee. "We take care of the land, and we utilize what it provides." His is the ancient Hawaiian ethos: I nā mālama 'oe i ka 'āina, na ka 'āina mālama iā 'oe (if you take care of the land, the land will take care of you