In a matter of months, golfers at Hualālai will see firsthand how their sport is shifting from tradition-bound to something that's more family friendly, casual, and fun. At the forefront of this trend, the soon-to-debut Hualālai Golf Academy will set just that kind of upbeat tone. The innovative new facility—the only golf academy of its kind on the island of Hawai'i—will provide not only the ultimate destination for players to learn and improve, but also a lively atmosphere ideally suited to soaking up the spirit of the game.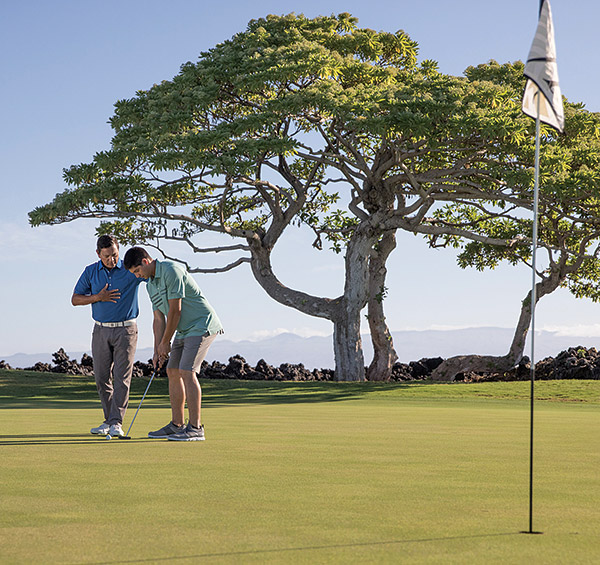 "We have the opportunity to make the academy cutting-​edge for teaching but also cutting-edge for fun," says Debbie Casey, general manager of the Hualālai Club, the private club for owners of Hualālai's 380 residential units. (The academy will be accessible to both club Members and resort guests.) "It's not just about teaching and improving their golf games, but a place for group get-togethers, multigenerational family involvement, a venue for special events. We put a lot of thought into doing something unique in the world of golf instruction, taking it to the next step."
The 3,000-square-foot, one-story facility will be located just a five-minute walk from the front desk of the Four Seasons Resort Hualālai, at the driving range serving the 18-hole Jack Nicklaus Signature Hualālai Golf Course. With the plans drawn and construction commencing, the project's masterminds are now dreaming up unique programming for the one-of-a-kind space. PGA pro Eddie Lee has come aboard as director of instruction after 23 years at Maui's Wailea Golf Club, and he says while his focus will be helping golfers get better, the academy will emphasize "fitness, fun, and fundamentals". The team is mulling over everything from club fittings and simulator competitions—imagine watching the pros play Pebble Beach on TV while you play a projected version of the course's iconic seventh hole—to night golf, weeklong "boot camps," and bachelor parties.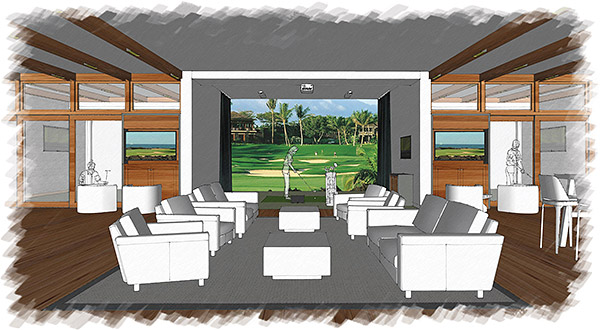 Three hitting bays will line the side of the building along the range. The two outside bays will open up for hitting onto the range or, with their doors down, function as private classrooms. Each will feature TrackMan launch monitors, which record club speed, ball spin rate, shot launch angle, carry distance, and a host of other factors that coach and student can use to foster and measure improvement. (The entire practice area also will be fitted with TrackMan Range, allowing those working on their own to track their stats through a free app.) The middle bay will feature the Topgolf Swing Suite, an indoor golf simulator and lounge. The only one in Hawai'i, the tech-laden Swing Suite combines food, fun, serious instruction, and a menu of games, both golf and non-golf, designed for all ages.
Fun will also be front and center in the building's lounge and comfort station. The space will boast a full kitchen, drinks, and snacks, plus plenty of tables, chairs, and couches for hanging out, eating, and watching the many mounted, large-screen TVs. A small merchandise area will sell gloves and balls, while the open area will stretch outdoors under a shaded trellis lighted for night use.
"Whether you're a hard-core or not-so-hard-core golfer, we'll take your experience to another level," says Casey. "Because that's what we do at Hualālai."