A Festival for the Senses
Before you see it, you smell it. Cocktail in hand, you wheel around and stride across Hawai'i's idyllic Kumukea Beach in search of the source of the mouthwatering aroma.
Almost instantly, you spot chef Andy Ricker, founder of the Pok Pok restaurants in Oregon and New York and an expert in Northern Thai cuisine. He's standing behind a grill and roasting a fish—whole—while preparing a chili dipping sauce to go with it. It's a salt-crusted moi, a native delicacy known as the "fish of kings" because it was once forbidden to all but Hawaiian royalty. You're now part of a crowd watching Ricker work, and you're hungering to taste the results. Ricker's spectacular fish was a highlight of Chef Fest 2017—and it only hints at the delights in store for guests of this year's event, which takes place November 13 through 16 at the Four Seasons Resort Hualālai.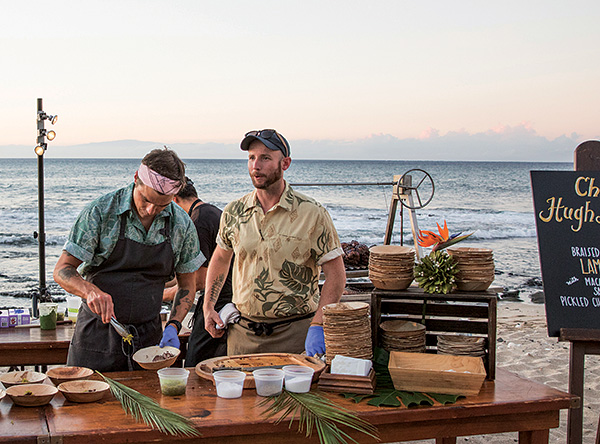 [ Chef Hugh Acheson (left) offers a beachside view of his artistry. Highlights of past Chef Fests include (below, from top) chef Brooke Williamson's charred tako, Acheson's braised and grilled lamb, chef Andy Ricker's coconut-smoked Hualālai oysters, and (previous spread) Four Seasons Resort Hualālai executive chef Thomas Bellec's yellowfin tuna with kabayaki gravy and preserved local quail egg. ]
Launched seven years ago, the annual food-and-wine festival has been helmed since 2017 by Thomas Bellec, executive chef at the Four Seasons Resort Hualālai. The 20-year veteran of Four Seasons properties is once again eagerly readying four delicious days of tastings, receptions, cooking classes, demonstrations, and much more. But as the conductor of this culinary symphony, Bellec is letting the guest chefs run free. "They have carte blanche," says Bellec. "It's very important for the chefs to cook in their own style. That's why we want to bring them here." Also key, he points out, is chefs and guests having the chance to truly connect. One of the ways Chef Fest accomplishes this is by capping the size of its classes at just 20 students. "We limit it, so the class is very intimate," he says. "We want it to be very interactive."
Unsurprisingly, Bellec doesn't have much trouble convincing chefs to come cook in Hawai'i. The 2019 lineup (see "Look Who's Cooking," page 23) includes returnees from past Chef Fests, including Charles Phan of the Slanted Door in San Francisco, Gabrielle Hamilton of Prune in New York City, and Cyrille Pannier of the Four Seasons Hotel San Francisco. The chefs participate not just to enjoy the resort, but also for the chance to work with Hawaiian ingredients. "I send a list of all the products available on the Big Island and the Hawaiian chain so the chefs can base their menus on that," says Bellec. "If they're very, very adamant about getting product on the mainland, I will allow that, but I'm very big on carrying the flag of Hawaiian produce. The chefs, when we do the orientation, are inspired most of the time when they tour the herb garden and see the amazing product we have here."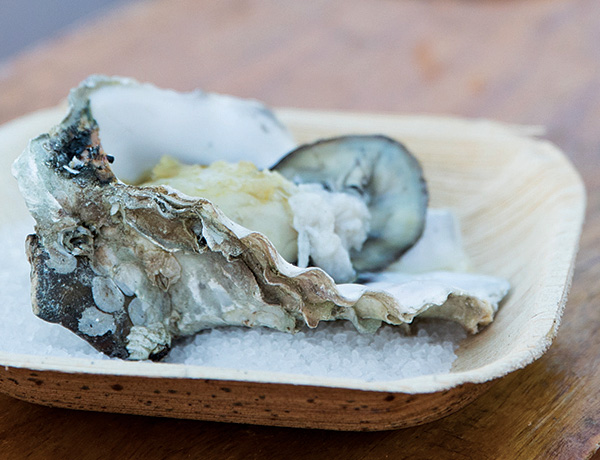 Though it's too early to know what recipes will show up on Chef Fest menus and class rosters this fall, it's fair to speculate that some of the highlights of past events—local ingredients such as liliko'i (passion fruit), ahi, turmeric, Kona coffee, and Hualālai oysters, the latter of which are grown on-site at the resort—will make an appearance. Kanpachi fish promises to be a feature, and a trip once reserved for chefs—a visit to local Kanpachi Farms, including snorkeling around the cages—will be opened up to a handful of Chef Fest participants.
Spending time with the chefs outside of the kitchen is a big draw for Chef Fest ticket holders. Bellec is planning a Hawaiian coffee tasting and other laid-back experiences that are still being orchestrated. In general, the format will follow that of Chef Fest 2018, which included cocktail-​making demonstrations, a grand tasting in the Hōkū Amphitheater, an 'Ohana dinner at Beach Tree, a casual reception and cookout at Kumukea Beach, and a gala dinner on the final day.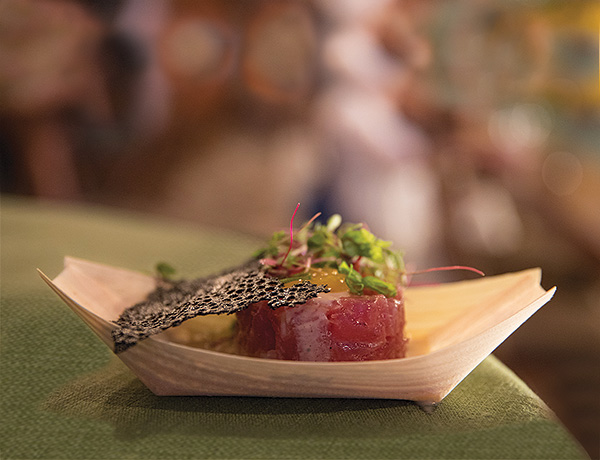 Mixology classes, which first joined the Chef Fest schedule in 2016, will return, as will tastings of wine and spirits. The venerated house of Louis Roederer, which participated in last year's event, will reprise its role as host of the Chef Fest Champagne tasting.
With the preparations for Chef Fest 2019 well underway, there's a whiff of suspense in the air. No doubt, Bellec and his team are up to the challenge. "Chef Fest demands a lot of juggling, being able to manage different chefs' expectations and guests' expectations," he says. "It's like building a big card castle or a puzzle, with many moving parts. But when we put everything together, it's magic."