Hours of Operation
Sports Club: 6:00 a.m. to 7:00 p.m
Tennis Pavilion: 7:00 a.m. to 6:30 p.m.
Tennis Shop: 7:00 a.m. to 6:30 p.m.
Reservations
Sports Club: Please call 325-8440 (in-house, dial 53) to make your reservations.
Tennis: Please call 325-8460 (in-house, dial 46) to make your reservations and schedule lessons.
Meet the Specialists
JERRY BLEVINS
Personal Trainer, Hualālai Sports Club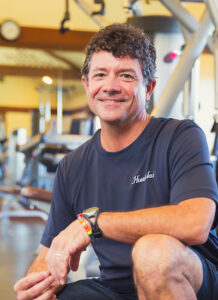 A practicing personal trainer and massage therapist since 1981, Jerry earned his B.S. degree in Exercise Science and Kinesiology and holds certifications as a Certified Strength and Conditioning Specialist (C.S.C.S) by the National Strength and Conditioning Association (NSCA) and a Golf Fitness Instructor by TPI (Titleist Performance Institute). His focus is on functional exercises that incorporate the whole body into a single exercise and he specializes in injury prevention and rehabilitation. Over more than three decades in the field, Jerry's clients have ranged from professional athletes and special Olympians to individuals who just want to increase their level of health and fitness. If you ask his long-time clients why they stay with him, the number one answer is: "He makes working out fun, so I always do it."
---
DEEANN MITCHELL
Personal Trainer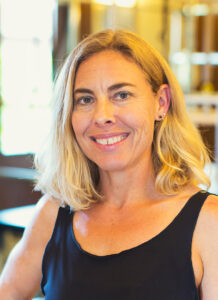 Ironman World Championship 2000 Finisher and age group Qualifier in 2001 and 2002, DeeAnn Mitchell also has a passion for outrigger canoe paddling and races for Waikoloa Canoe Club, as well as participating in various athletic events throughout the year. No surprise then, that she is just as passionate about fitness and sharing her expertise with clients. Driven by her personal dedication to a holistic approach to wellness, she encourages cross training with amped up cardio in her Cycle Fit and Butts & Guts classes balanced with the yoga, Pilates and Boga Fit floating fitness instruction she offers. DeeAnn holds certifications as a Personal Trainer, Group Fitness Instructor, Pilates Educator and Yoga Fit Instructor. She says she is a firm believer in the Ironman motto: "Anything is possible."
---
MARK WILLMAN
Head Tennis Professional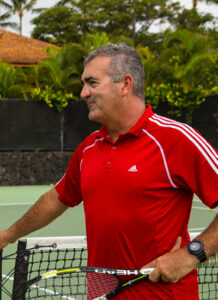 Mark at an early age knew that Tennis was his career path. He ranked in the top 2 during his junior profession and at age 18 won the New Zealand nationals and finished the year ranked no. 1. First at the University of Florida, then at the University of Hawai'i at Manoa on a tennis scholarship he continued to play at a high level and by his senior year he ranked in the top 50. He coached at Punahou High School, the Waialae Country Club and briefly at the O'ahu Country Club. Before coming to Hualalai Resort, Mark was the Head Tennis Professional at the Hilton. Originally from New Zealand, Mark is married to Gina and is a proud father of two Zane (8 years) and Chloe (21 months). In his spare time he coaches his son's soccer team.
Looking to the Future
Hualālai Resort continues to strive for excellence by providing impeccable service with the spirit of aloha. As we look toward the future, our goal to to exceed all expectations with kind service and graciousness will be our foundation that our guests and community receive.