Hours of Operation
Open from 8:30 a.m. to 4:00 p.m. daily. The Center is located on the ocean side of The Club Shop.
Reservations & Schedules
Weekly schedules are available at the Concierge or Cultural Center. Please call to make reservations (808) 325-8520 (in-house, dial 47) and to reconfirm complimentary programs.
KAʻAIʻŌHELO MCAFEE-TORCO
Ka'ūpūlehu Cultural Center Manager, Hualālai Resort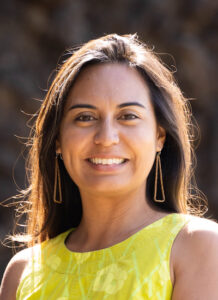 Born on O`ahu, a firm foundation in the culture and traditions of Hawai`i was first established for McAfee-Torco through immersion schools and music from the Hawai`i Youth Opera Chorus. She also attended Kamehamaha Schools, which gave her a foundation for her kuleana (responsibility) to Hawai`i and its people. She went on to earn a degree in communication studies at Emerson College in Boston and returned for her master's in curriculum studies from the University of Hawai`i before committing to her career in education. While content with where her career was headed, McAfee-Torco also felt she was missing practical life skills to accompany her immersive knowledge of all things Hawaiian. So she began spending time learning hana noʻeau or traditional practices from elders and masters at the Bishop Museum in Honolulu, many of which she now relies on at the Resort. She also joined 'Ohana Wa'a (the Polynesian voyaging family), which includes Makali`i, Hawai`i Island's very own double-hulled voyaging canoe based in Mahukona and Kawaihae. She spent three months traveling on Hōkūleʻa, a double-hulled voyaging canoe originally launched by the Polynesian Voyaging Society in 1975 and came away inspired by much more than the scenery. In 2022, she made the move to Hawai`i Island for her role at the Resort, in the footsteps of the beloved "Uncle Earl" Regidor who will continue providing guidance as a cultural advisor. Her hope is to continue the legacy, while leaving her own imprints along the way, imparting her deep education in Hawaiian and genuine love for Hawai`i and its people through everything we do.
---
EARL KAMAKAONAONA REGIDOR
Ka'ūpūlehu Cultural Advisor, Hualālai Resort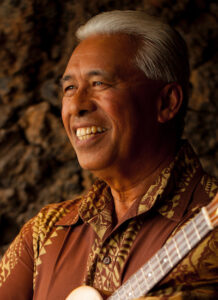 Born and raised in the quaint sugar plantation village of Pa'auilo, Hāmākua, Island of Hawai'i he is the youngest in a family of 12 children. Earl fondly recalls family life in a small community. "Music was always a part of our family," says Earl, "I can't remember one day there wasn't music present – whether it was live or played on a record player. Being "young and carefree" lasted only about 18 years for Earl. Only six months after graduating high school, Earl enlisted in the military, he credits the military for transforming him from a young boy to a man; and later for allowing him to continue his education.
In 1996, Earl joined Hualālai Resort as one of the mea ho'okipa – or hospitality ambassador – at Ka'ūpūlehu Cultural Center. In 2006, he became manager of the center and was ordained by Universal Ministries. He now performs weddings and blessings, which adds another fulfilling facet to his colorful life.
Earl's humble upbringing, life experiences, and love for the culture make him the perfect ambassador to share Hualālai's and Hawai'i's values and culture with those from here and beyond.
---
KALEOLANI STANDLEY
Mea Ho'okipa, Ka'ūpūlehu Cultural Center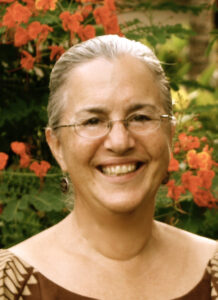 If anyone has the pleasure of meeting Kaleolani, you will notice her knowledge of the art of ulana lauhala and love for quilting, hula and lei making, a big change from being a dental technician, which she was for 30 years. She has been a mea ho`okipa at the Cultural Center since 2005. She has learned the traditions of the Hawaiian culture from many cultural specialists. She studied hula under Kumu Aunty Lani Kalama and Aunty Healani Kekela, Hawaiian quilting from Lillian Macedo, weaving from Aunty Elizabeth "Maluihi" Lee and Uncle Peter Park, and the art of haku lei making from Kalili Hansen. Her knowledge expands to the art of Hawaiian implements; `ipuheke, `uli`uli puniu, pu`ili and `ohe hano ihu. Her passion for plants has led her to Marie McDonald's farm in Waimea and Aikane Nursery in Hawi. She was an Ethno Botanical Intern with Amy Greenwell Bishop Museum. At one time she had her own landscaping business which specialized in flowerbeds. Originally from Oakland, California, arrived on the Big Island in1984 and married her husband Don in 1985, they have a son Brian who lives in Sunnyville, California. When she is not here she enjoys plant material gathering for lei making and lauhala weaving, which she visits Kohala frequently, where her ancestors are from. Her discovery revealed that her great great grandmother was from Kohala and practiced La`au Lapa`au and also was a mid-wife.
---
MICHELLE KAULAMAHIEHIE AMARAL
Mea Ho'okipa, Ka'ūpūlehu Cultural Center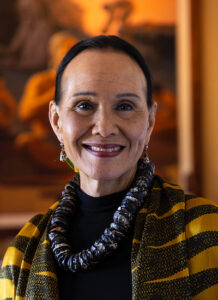 Raised with hula traditions, Kaulu grew up dancing under the influence of her aunties and cousins at family gatherings. While attending Kamehameha Schools on Oahu, she studied hula with Kumu Hula Nona Beamer, then with Sally Kalala Alohikea Lyons, a legend in the professional hula world. Aunty Sally became her mentor and she began performing in hula productions at various hotels and events. In 1985, she was cast in the Lim Family Trio at Mauna Lani Bay Hotel & Bungalows and has remained a professional hula soloist for 40 years, currently still performing at the current Mauna Lani, Auberge Resorts Collection. Kaulu became a Kumu Hula earning a degree in the form of "ūniki" under the direction of Kohala's venerated Nani Lim Yap and Leialoha Lim Amina of Hālau Na Lei ʻO Kaholokū. In the State of Hawaii, Kaulu is one of only two professional resort solo hula dancers having the longevity of multiple decades entertaining audiences. Equally important in her life is her family and her life-long commitment to cultural preservation in the hospitality industry, making her the ideal mea ho'okipa at the Resort for over 20 years, engaging and enchanting visitors and members alike.
---
MICAH HOAPILI KU'AIMOKU DE AGUIAR
Mea Ho'okipa, Ka'ūpūlehu Cultural Center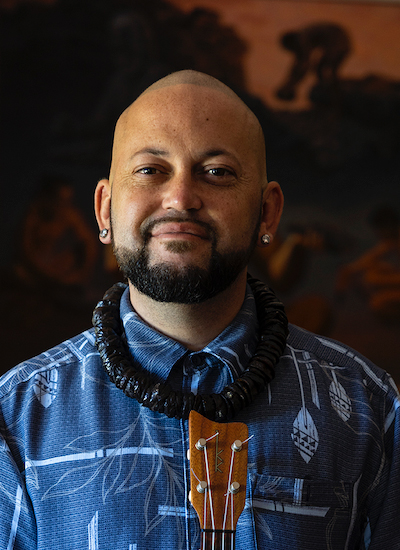 Micah grew up in South Kona and was first introduced to the ukulele in middle school, and from there, taught himself with the influence from this grandfather and many uncles, playing and singing professionally since 2008. He has since put out two full albums and was the 2013 state champion of the Richard Ho'opi'i Leo Ki'eki'e Falsetto Contest. Prior to joining the Hualālai 'ohana, he had been playing at the Resort with multiple production companies for lu'aus and events for 15 years, which he still does till this day. What he enjoys most about being a cultural practitioner is being able to expand his cultural knowledge learning from his fellow mea ho'okipa in the practice of lauhala weaving, lei making, new chants and songs, and getting to share all that he has learned with members and guests.
Looking to the Future
Hualālai Resort continues to strive for excellence by providing impeccable service with the spirit of aloha. As we look toward the future, our goal to to exceed all expectations with kind service and graciousness will be our foundation that our guests and community receive.