More than 20 years ago, in advance of the Four Seasons Resort Hualālai's grand opening, we had a clear aim: to provide guests with the unique visual flavor of the Hawaiian Islands through authentic artifacts and artworks. So our art-acquisition team, fueled by the original vision of art adviser Julie Cline, went to work, scouring the archipelago for ancient-to-mid-20th-century treasures that reflect the region's rich culture and aesthetic sensibilities. The result is a distinctive collection that pervades the property, from the lobby and ballroom foyer to the restaurants and guest suites. Its more than 100 pieces, including the seven detailed here—rarities such as irreproducible woodblock prints and royal coconut goblets—not only adorn the resort but also speak to its historical significance. The pristine oceanside location, with its understated, elegant architecture, is a profound venue in which to present the Hualālai Art and Artifact Collection: The beach at Ka'ūpūlehu was enjoyed by Hawaiian nobility and has been recognized as a site of ali'i, or royalty, for hundreds of years.
---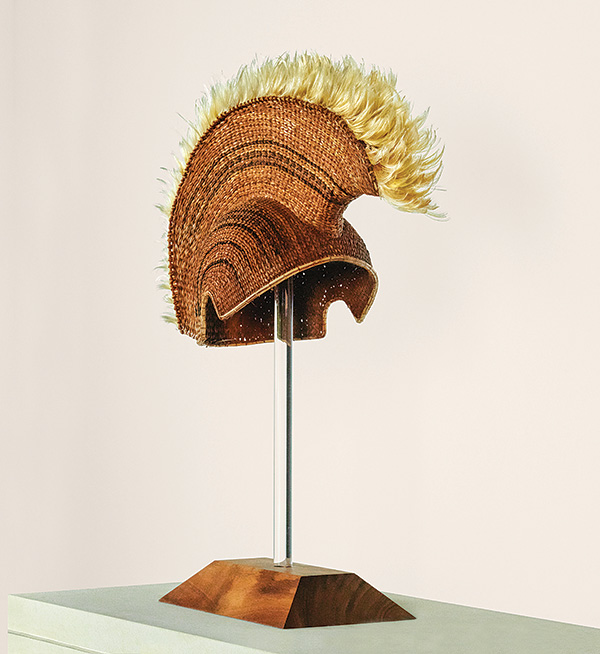 Patrick Horimoto, mahiole helmet, 1996. Woven 'ie'ie vine and pheasant feathers.
For years, artisan and researcher Patrick Horimoto has been employing materials and techniques used by ancient Hawaiians to create helmets such as this one. In ancient Hawai'i, warriors wore protective head coverings that often were adorned with elaborate crests or a row of mushroom-shaped woven ornaments. High-ranking chiefs and kings wore feathered helmets that matched their feather capes or cloaks. The helmets were woven from the split aerial rootlets of the 'ie'ie vine, which grows symbiotically with 'ōhi'a trees in the upland forests. Feathers, when used, were tied to a fine mesh netting made of olonā fiber.
---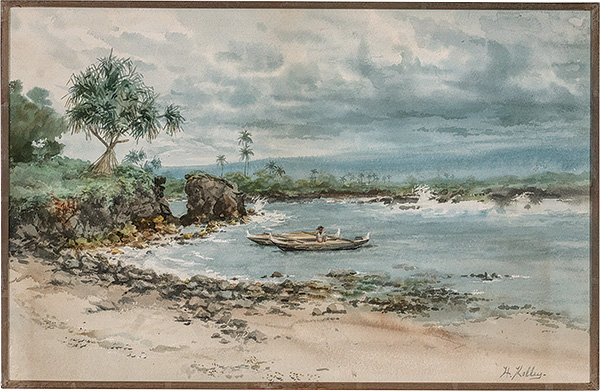 Helen Whitney Kelley, Double Hull Canoe, circa 1896. Watercolor, 12½ × 19½ in.
While visiting relatives at Onomea Bay on the windward side of Hawai'i Island, Helen Whitney Kelley (1852–1910)—daughter of Honolulu Advertiser founder Henry Whitney—produced this and several other watercolors depicting actual scenes of the area. A native of O'ahu, Kelley studied at the Mark Hopkins Institute of Art in San Francisco (the school was later renamed) and exhibited a number of her watercolors in the Bay Area before returning to Hawai'i with her husband, Luke Kelley. She painted a wide variety of subject matter, from flower studies and leis to picturesque landscapes and sensitive portraits, and her representations of the islands in the days of old are highly sought-after. Other examples of her work are in the collection of the Bernice Pauahi Bishop Museum in Honolulu.
---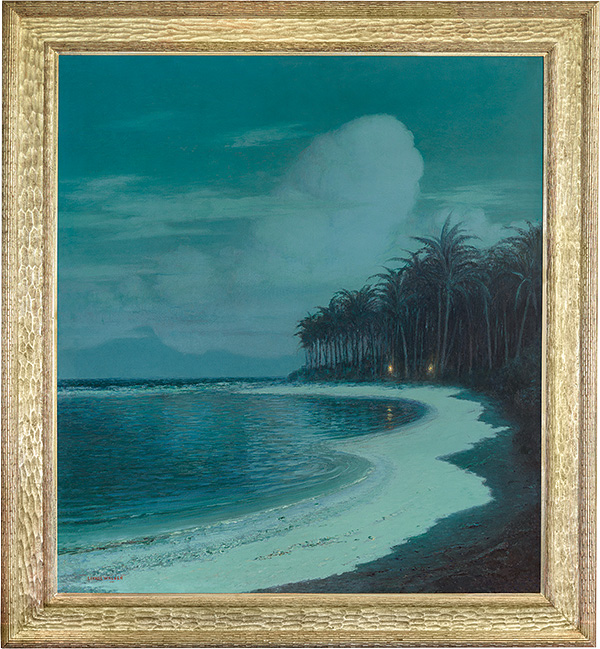 Lionel Walden, Lamp Fires, 1932. Oil on canvas, 53¾ × 48 in.
This and other Hawaiian works by the Connecticut-born artist Lionel Walden (1861–1933) are highly regarded and are included in the Honolulu Museum of Art and in corporate and private collections. He arrived in Hawai'i in 1911 at the invitation of James Austin "Kimo" Wilder, a Hawai'i-born artist whom the Boston-​educated Walden met in Paris. Walden—a celebrated artist in France, where he studied with the renowned French painter Carolus-Duran—found inspiration in Hawai'i's lush beauty, vivid colors, and quality of light, and earned a reputation among his fellow artists as "the supreme interpreter of the Hawaiian seas."
---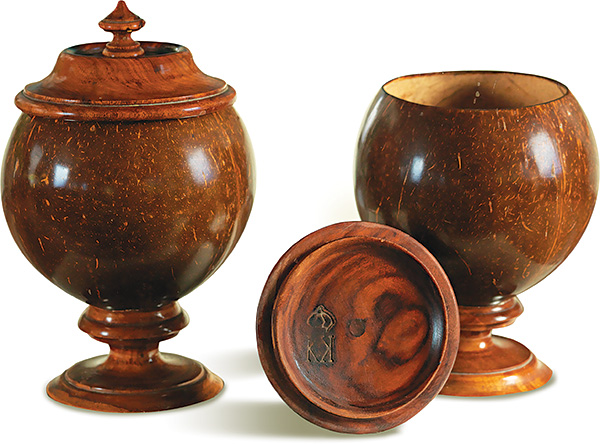 Pair of goblets from the former collection of King David Kalākaua, 1886. Coconut shells and kou wood.
These goblets are believed, based on all available evidence, to have been a gift to King David Kalākaua for his 50th birthday celebration, a two-week affair referred to as the Silver Jubilee. Branded with the king's monogram, the pair feature drinking vessels fashioned from coconut shells and pedestals and lids made of highly prized lathe-turned kou wood. The Silver Jubilee's festivities included the revival of Hawaiian chanting and hula dancing in public—activities that had been suppressed by Christian missionaries for decades. The grand parade wended through downtown Honolulu to 'Iolani Palace, where well-wishers and loyal supporters offered gifts to the king.
---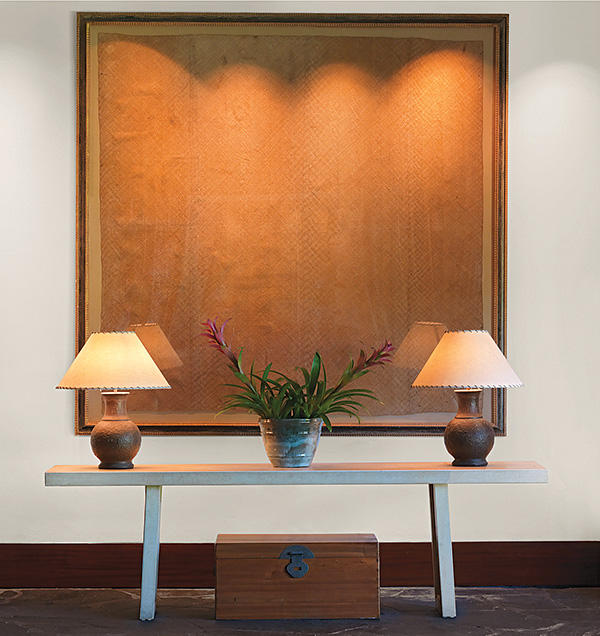 Makaloa sleeping mat from the island of Ni'ihau, circa 1850. Woven sedge, 80 × 80 in.
The sedge known as makaloa is a delicate plant (pictured below center) with slender, reedlike leaves that grows on the banks of anchialine ponds along the Kona Coast and in other wetland areas throughout the Hawaiian Islands. In ancient Hawai'i, weavers gathered the longest leaves and made a range of items, most notably large sleeping mats with intricate geometric designs painstakingly woven into the upper surface. Hawaiian royalty favored makaloa mats from the island of Ni'ihau, like this one, for their softness, pliability, and pleasant fragrance.
---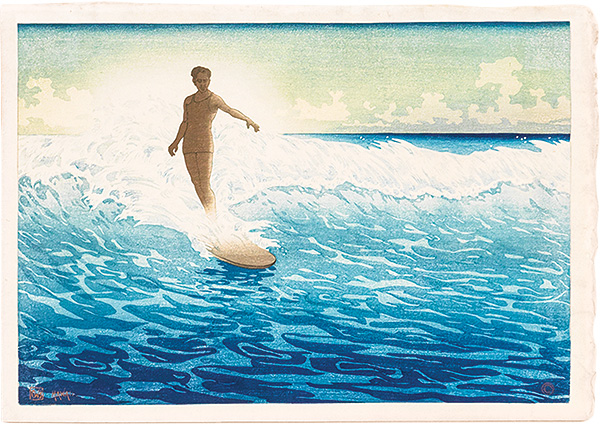 Charles W. Bartlett, The Surf Rider, circa 1920. Woodblock print, 15½ × 10¾ in.
Around 1920, in collaboration with the Tokyo print publisher Watanabe Shōzaburō, three watercolors by the English painter Charles W. Bartlett (1860–1940) were rendered as woodblock prints, including this depiction of the legendary surfer and swimmer and Olympic gold medalist Duke Kahanamoku. Before Bartlett became well known for his watercolors and etchings, he studied at the Royal Academy of Arts in London and the Julian Academy in Paris. He also traveled in China, India, and Japan prior to his arrival in Hawai'i in 1917. Though he intended to return to England, he continually postponed his departure from the islands because of how enthusiastically he was welcomed there. He and his wife, Catherine, ultimately decided to stay.
---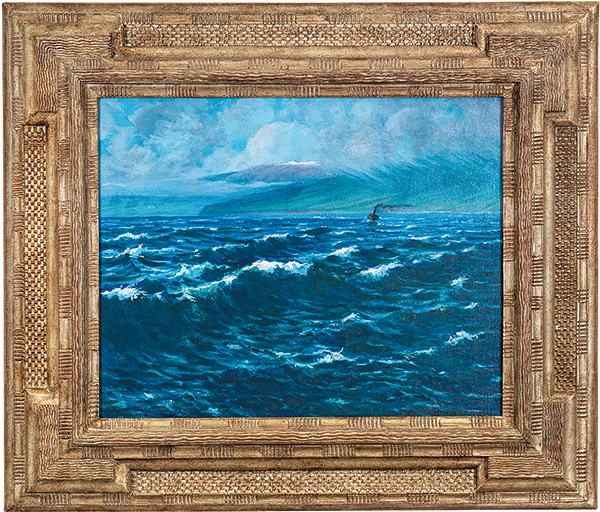 David Howard Hitchcock, Inter-Island Steamer off the Hāmākua Coast, 1935. Oil on canvas, 24 × 30 in.
The steep cliffs of the Hāmākua Coast are on the windward side of Hawai'i Island, north of the city of Hilo—the birthplace of artist David Howard Hitchcock (1861–1943). For works such as this striking oil on canvas, he is regarded as one of the most important interpreters of the Hawaiian Islands. Early on in his formal training, Hitchcock studied under the French artist Jules Tavernier, who had become well known for his paintings of the Kīlauea volcano. Years later, after the death of Tavernier, Hitchcock returned to the country of his onetime teacher to undertake professional training in Paris. Upon his eventual return to Hawai'i, he began a lengthy and prolific artistic career.