The 2017 Mitsubishi Electric Championship at Hualālai
The Mitsubishi Electric Championship at Hualālai is set for January 19 – 21, 2017. Fan favorites Fred Couples, Bernhard Langer and Miguel Jimenez will be returning along with this year's champion Duffy Waldorf. The roster will be filled with official champion winners from 2015 and 2016 season, winners of majors since 2012, along with ten invited professionals with five or more career victories including one major. The gallery of spectators are never disappointed when they spend the day or enjoy the three day tournament. These PGA Tour Champions also participate in a 2 day Pro-Am, January 17-18 which the proceeds benefit the Hualālai 'Ohana Foundation.
The PGA Tour Champions and Mitsubishi Electric look forward to opening the Champions Tour in Hawai'i at Hualālai Resort, which has been here every year since 1997. Other organizations that will benefit from this event are the Rotary Club of Kona, which helps with arranging the many volunteers that make this event a successful tournament, along with the staff and management of the resort. The Daniel R. Sayre Foundaton which helps with purchasing rescue equipment for our Fire Fighters and the Big Island Jr. Golf Association. A number of our Champions also participate in other tournaments on island to help raise money for the Hawai'i State Jr. Golf Association.
These organizations truly appreciate your support and without the spectators this tournament would not be complete. For more information or to purchase ticket please go to www.pgatour.com/mec.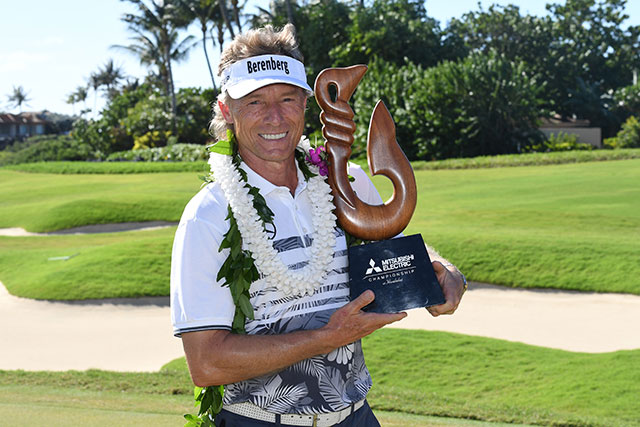 Congratulations to Bernhard Langer, the winner of the 2017 Mitsubishi Electric Championship at Hualālai
Next 20 Years
Hualālai Resort reached a new milestone on September 2016: 20 years of excellence as one of the world's most acclaimed luxury residential resorts. We look forward to another 20 years of excellence by providing impeccable service with the spirit of aloha.