Maunakea Skies, November 18 at 7 pm
November's Topic: Long-Wavelength Eyes on the Cosmos
Speaker: Dr. Mark Rawlings, James Clerk Maxwell Telescope (East Asian Observatory)
Host: Emily Peavy, 'Imiloa
Many remarkable astronomical discoveries have resulted from scientific observations across the realms of the electromagnetic (EM) spectrum that lie beyond the domain of human vision. Learn more about this fascinating technology at 'Imiloa's Maunakea Skies talk on Friday, November 18 at 7:00 pm with Dr. Mark Rawlings, Support Scientist at the James Clerk Maxwell Telescope (East Asian Observatory).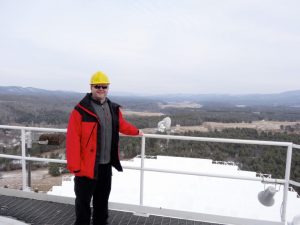 During his talk, Rawlings will focus on telescopes that observe at the longer wavelengths–the radio, submillimeter and infrared ranges–and discuss their complementary roles in observing the 'interstellar medium,' the material between stars. Despite being invisible to the human eye, the humble mixture of dust and gas that make up the interstellar medium is a fundamental component of the Universe and is actually central to the formation of galaxies, stars and planets. Come learn about astronomers' unexpected adventures and ongoing struggles to capture the faintest of signals from distant clouds in deep space. Read more >
Stargazing Live
''Imiloa Astronomy Center introduces a new live stargazing program in our planetarium, in partnership with the Onizuka Center for International Astronomy Visitor Information Station (VIS) on selected Friday Evenings at 7:30 to 8:30pm.
November 25, 2016
December 30, 2016
Next 20 Years
Hualālai Resort reached a new milestone on September 2016: 20 years of excellence as one of the world's most acclaimed luxury residential resorts. We look forward to another 20 years of excellence by providing impeccable service with the spirit of aloha.